About Our Landscapers
Commercial & Residential Landscaping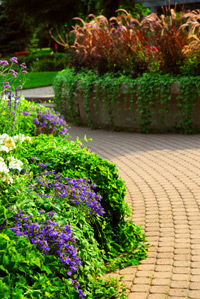 Dreamscapes by Dennis is the creation of Dennis Donna, an experienced and qualified landscaper with over 25 years of experience in the landscaping industry. Dreamscapes by Dennis is located in Dixon, Illinois but also serves the surrounding areas of Sterling, the Dekalb area, Rockford and Freeport, Illinois.
Dreamscapes by Dennis is different than most landscaping companies because we work closely with our clients to actualize their ideas and ensure that they have a role in the creative process every step of the way. We want your landscape to be based on your inspirations and things that catch your eye, so that it is not just a landscape, but a dreamscape!
We work with trained horticulturalists to provide the best advice on types of trees to plant and work efficiently with state-of-the-art machinery for all our work and easy clean-up.
A Local Dixon Business, Supporting other Dixon Businesses
In order to keep our prices down, we have learned from experience that it is important to have partnerships with local providers. Thus, over the years we have developed partnerships with local businesses for most of the materials we use, making our materials easy to obtain and keeping our costs low.
---
Call
(815) 857-3281
or contact a
Landscape and Hardscape Contractor
online.
---
Serving Dixon, Sterling, Rock Falls, Rockford, Freeport, the Dekalb area, and the surrounding areas.